Want to take a break from your skis or snowboard or just looking for something new and different? Well, we guarantee you won't run out of options morning, noon or night...
CROSS COUNTRY SKIING
Enjoy one of the largest FREE groomed cross-country ski systems in North America!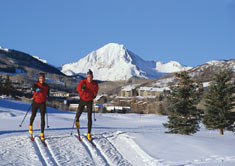 The Aspen/Snowmass Nordic Trail System boasts over 90 kilometers/60 miles of FREE cross-country ski and snowshoe trails within, and connecting to, the communities of Aspen, Snowmass and Basalt. Trails are varied in terrain for beginners to experts. Beautiful vistas, great exercise and outdoor fun for the whole family!
For information and ski trail conditions or to contact the cross-country ski centers, call the Nordic Hotline at
970-429-2039 or explore the Aspen Nordic Trail System
online at www.aspennordic.com.

FIRST TRACKS
Join our staff for an early morning first run of the day on freshly groomed snow or powder! Space is limited. Advance reservations and valid lift ticket/season pass required.
Snowmass - offered on Wednesdays and Fridays beginning December 17. Space is limited. Offered for upper-level intermediate skiers and snowboarders, ages 11 and older. Call or stop by the information desk in the Snowmass Ticket Pavilion, 970-923-0560.
Aspen Mountain - offered daily beginning December 11. Space is limited. Sign up in the gondola building or call 970-920-0755 for reservations.
NATURALIST-GUIDED SKI & SNOWBOARD TOURS
Drop in at the Wapiti Wildlife Center at the top of Elk Camp lift and ski a run with a knowledgeable naturalist. Take a FREE tour and learn about our high-alpine environment - wildlife in winter, tracking, avalanches, winter habitats and other interesting signs of life that go unseen during your skiing experience!

* Beginning December 13, tours depart from the Wapiti Wildlife Center EVERY DAY at 11 a.m.
and 1 p.m
* Lift ticket and ski/snowboard gear required
* Tours are FREE and take 45 minutes
* Minimum age 7 years
* Intermediate skiing ability is required
* No reservations necessary
* Call 970-925-5756 or click here for more information.
Wapiti Wildlife Center is open to the public every day as well. Come warm up, explore the center and learn about the different animals living in the mountains around us.
POWDER TOURS
Love Powder? Take a POWDER TOUR. Luxury snowcats take you to prime untracked stashes on the backside of Aspen Mountain. Fresh tracks guaranteed and gourmet lunch is included.

Enjoy no lift lines, no crowds, just the exhilaration of skiing some of the Rocky Mountains' finest powder snow in a spectacular setting. Two guides and a driver lead each 12 person snowcat group, selecting terrain according to daily snow conditions and the group's experience. Snowboards are welcome on Aspen Mountain Powder Tours.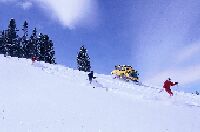 Powder Tours meet at 8:15 a.m. in the lower level of the Silver Queen Gondola Building at the base of Aspen Mountain. After a short gondola ride to the summit, groups are given an orientation with guides before heading out for backcountry skiing and riding. A hearty lunch is served in a cozy wood-stove heated cabin set in the heart of the picturesque Elk Mountains. Snacks and drinks are provided on board the cat throughout the day. Normal ski/board clothing is fine. There is space on the snowcat for extra items, such as, cameras, hats, gloves, and goggles.

Powder Tours are on a reservations-only basis and require a credit card number to hold the booking. For reservations visit the Powder Tours desk in the gondola building, call 970-920-0720 or 800-525-6200 x3720 or contact us via email. Cancellation policies apply, please inquire.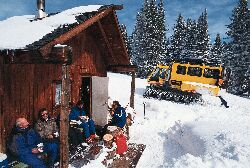 NATURALIST-GUDED SHOWSHOE TOURS
Weave in and out of spruce-fir forest along a babbling creek and learn about the animals that inhabit the Rocky Mountains in winter. Beginning December 13, naturalists from Aspen Center for Environmental Studies lead guided twice-daily tours at Snowmass and Aspen Mountain.The cost is $57/adult, $45/youth ages 13-17 and seniors ages 65 and up and $35/kids ages 7-12. Tickets can be purchased at any Aspen/Snowmass ticket window.Price includes lift, snack & warm drink, snowshoes, knowledgeable guide, basic instruction and spectacular scenery!
Meeting locations and times:
Snowmass - Tours depart from the top of the Elk Camp Gondola at 10 a.m. and 1 p.m. daily.
Aspen Mountain - Tours depart from the top of the Silver Queen Gondola at 10 a.m. and 1 p.m. daily.
Click here or call 970-925-5756 for more information.