ACTIVITIES
Tubing:
Tubes are rented at the base of Strawberry Hill which is the beginners ski area behind Edelweiss Lodge and Spa. Schedule: 5:00 p.m. - 7:00 p.m Wednesday through Saturday Schedule enhanced during peak periods and Holidays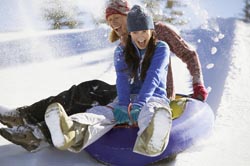 Snowmobiling : Located in and above Taos Ski Valley, A.A. Wilderness Adventures is one of the most picturesque snowmobile tours you will take anywhere. Big Al will be your guide to 12,000 foot peaks and incredible views. The 2 hour tour includes riding time on the snowmobiles and warm clothing. Don't forget to bring your camera along. Take a guided snowmobile tour to the majestic peaks and ridges above Taos Ski Valley. Experience spectacular views of New Mexico's highest peaks and enjoy an exhilarating ride. An adventure the entire family will enjoy and treasure. As Big 'Al' would say, "Make no mistake - this tour will lift your spirit!"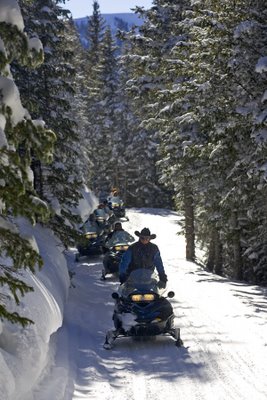 Cross-Country Skiing:

Enchanted Forest is New Mexico's largest full-service cross country ski area offering trails groomed for both classic and freestyle skiing. The facility, located 3 miles east of Red River on the Carson National Forest, offers the best of all worlds - stunning mountain vistas and meandering forest trails which give a back country feel in a groomed, patrolled area. The trail system is groomed with one side tracked for classic a.k.a. diagonal stride skiing and the other left smoothed for snowshoeing and freestyle a.k.a. skate skiing. (If you are not familiar with skating, imagine roller blading on snow - except you have control and stopability on hills.) Enchanted Forest offers beginner, intermediate and advanced lessons, including classic and skating techniques. For those who don't yet know how easy cross country skiing can be, the Enchanted Forest offers a complete lesson package including boots, poles, skis, trail pass and a one to one and a half hour lesson (for ages 3 and up) for less than the cost of a lift ticket at most downhill areas. A full-service rental and service shop is located at the ski area. If you get cold you can grab a cup of hot chocolate and a candy bar inside the warming hut/snack bar. A second warming hut (shelter) and picnic areas are also offered along the trail system.

Snowshoeing:

Enjoy the pristine beauty and silence of the Carson National Forest surrounding Taos Ski Valley. Numerous trails will lead you to breathtaking views and allow you to escape everyday life. Hiking with snowshoes will rejuvenate your mind and reconnect your soul to the mountains. Snowshoe rentals are available at local ski shops and trail maps are available at the Taos Ski Valley Chamber of Commerce in the Resort center.
Children's Center:

We've developed a series of unique children's programs led by specially-trained instructors. Housed in a state-of-the-art facility, kids will be comfortable using as a "home base" during the day ensuring that you will have a great time, too. Children even have their own ski area, pint-sized lifts, special terrain, and equipment shop. What parent could want more? Reservations are required for all of the Children's Center Programs.