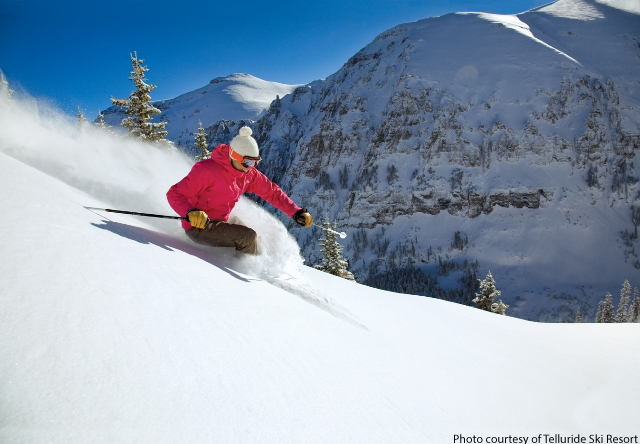 MOUNTAIN FACTS

Skiable Terrain..........2,000+ acres (810+ hectacres)
Longest Run..............4.6 miles (7.4 km)"Galloping Goose"
Total Trails.............125
Trail Difficulty.........23% Beginner
..............................36% Intermediate
..............................41% Advanced / Expert
Total Lifts .............18 Total
Vertical Drop............4,425 feet (1,349 m)


Averaging more than 300 inches of snow and 300 days of sunshine each year, odds are you'll find fantastic conditions on Telluride's 1700 skiable acres. And forget crowds: the trails are never packed, and there is rarely a lift line. Long time favorites include The Plunge for experts, intermediate See Forever, and the 4.6 mile Galloping Goose for beginners. Freestylers of all levels can hit one of several terrain parks.

Telluride is often described as one of the most beautiful places in the world, situated within a box canyon and surrounded by majestic Rocky Mountain peaks. Our environment is also our livelihood, and we intend to apply strong moral and ecological ethics to the stewardship of our natural resources, while taking a leadership role in the heightened environmental education and awareness of our guests, community, and employees. The Telluride Ski & Golf Resort's environmental work has evolved through the years to cover a broad range of conservation initiatives and educational endeavors. The well-balanced program has won acclaim within the ski industry, including the National Ski Area Association's Golden Eagle Award for Environmental Excellence, the Regional Forester's Caring for the Land Stewardship Award, and certification in Audubon International's acclaimed Cooperative Sanctuary System program for golf courses. Telski collaborates with the United States Forest Service, the surrounding Telluride and Mountain Village communities, as well as San Miguel County, to together find solutions that will sustain the region's economic, cultural and environmental health.