ACTIVITIES
With unparalleled terrain and plentiful powder, Beaver Creek is renowned around the world as a mecca for world-class skiing and snowboarding. While many winter visitors are here to hit the slopes, there are countless things to do in Beaver Creek for those lacking downhill experience or for those who are just looking for a break from the lift lines.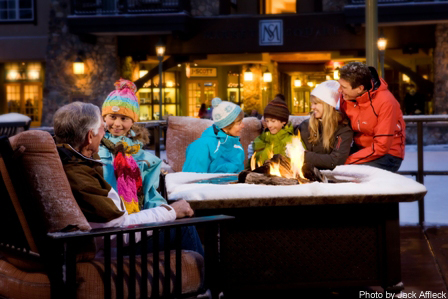 Beaver Creek Ice Skating:
Located in the center of Beaver Creek Village, Black Family Ice Rink offers endless family-friendly fun. Teach the little ones to skate, take a spin around the rink with your sweetie, or sit back on one of the plush couches that line the rink and kick your feet up. Offering weekly events like Family Night at the Firepits each Monday and Disco Skate Night on Monday and Friday evenings, Beaver Creek ice skating provides endless fun for kids young and old and is a great activity for families and groups.

Cocoa & Corduroy: Guests are welcome to enjoy a free cup of hot chocolate at the top of Chair 6 (Centennial Express) and freshly groomed trails everyday at 9:30am.

Complimentary Family Snowshoe Tour: Take a stroll in starlit snowfields. Guide, snowshoes and headlamps are provided. For ages 6+. Tours depart from the Beaver Creek Nordic Center located at the bottom of the Strawberry Park Chairlift (#12). Bring a fondness for adventure and your appetite. Hot cocoa and cookies will be served at the end of the tour.

Cookie Time: Enjoy warm, fresh-baked chocolate chip cookies served daily. Served daily at the base of the Centennial Express Chairlift and the second level of the escalators.

Family FunFest: The Village comes alive with music, magic, food and fun. Get your caricature drawn or face painted, partake in some fun games and activities, or just sit back and listen to the music. There's sure to be something for everyone! In Beaver Creek Village Plaza.

Friday Family Afternoon Club: Catch a glimpse of what Beaver Creek does to keep everyone safe on the slopes. Meet Ski Patrol, watch training and recovery demonstrations by the BC Avalanche Rescue Dogs, tour a snow cat, launch an avy grenade and much more. In front of McCoy's near the base of Centennial Express Chairlift (#6).

Haymaker Tubing Hill: Offering a heart-pounding,family-friendly winter activity for visitors with kids big and small, Beaver Creek tubing is a great way to experience our celebrated mountain. No ski or snowboard lessons required, tubing Haymaker Hill offers every guest the chance to feel the rush of flying down Beaver Creek Mountain in a specially designated snow tubing area. A great family or group activity, race your fellow tubers down the four carved-out lanes or link up and head down the hill as a group.

Marmot Maze: Make like a marmot and get lost in a twirling maze of burrows, tunnels and slides. Kids of all ages welcomed. Located below the Ranch, next to the tubing hill. $29 gets you unlimited rides at both attractions for an hour.

Mountain Welcome Tour: Guided 2-hour terrain tour of Beaver Creek Mountain. Available to intermediate and advanced skiers and riders. Meet at the top of Centennial Express Chairlift (#6) by 10:00am to participate.

Nordic Sports at McCoy Park: A dedicated snowshoe and cross-country ski area with 32km of tracked and rustic trails. McCoy Park is located at the top of the Strawberry Park Express Chairlift. Visit the Beaver Creek Nordic Center at the base of the lift for information on gear, rentals, guided tours and lessons.

On-Hill Story Time: Join the Wild West characters of the Buckaroo Bonanza Bunch for complimentary story time at the top of the Buckaroo Express Gondola. For ages 3-6.

Rail Jam Playground: Rail session on the snow supervised by Beaver Creek Ski & Snowboard School. Rail Jam takes place on the snow in front of McCoy's near the Centennial Express Chairlift. For levels 5 (intermediate) and up. Must bring your own equipment. No cost to participate but a waiver signed by parent or guardian is required.

Ripperoo's Parade: Ski down to the Village with Ripperoo, our Ski & Snowboard School mascot! The parade follows Ripperoo down our beginner Hay Meadow run serenaded by Ripperoo's favorite music. Meet at The Ranch by 2:30pm to participate.

Ski & Snowboard School: Whether you're a beginner or expert, learn from the best at your own pace. Graduates like to say that the Ski & Snowboard School at Beaver Creek is the best in the country, maybe any country. The Adult Ski and Snowboard School is located at the top of the escalators. For more information, please call (970) 754-5300. The Children's Ski and Snowboard School is located in Gerald R. Ford Hall between the Park Hyatt and McCoy's. For more information, please call (970) 754-5464.

Ski With A Ranger: A guided 45-minute ski tour of beginner and intermediate trails on Beaver Creek Mountain. Complimentary 45-minute tour guided by Forest Service Rangers and volunteers. To participate, meet at Ski Patrol Headquarters located at the top of Cinch Express Chairlift (#8) by 1:30pm.

Thursday Night Lights: Participate in a glow stick ski-down set to music followed by a fireworks finale. Level 5 skiers (intermediate) or above are welcome to participate. Parent or guardian approval is required. Participants must bring their own skis, snowboard and gear. Register in Beaver Creek Children's Ski & Snowboard School.

Dogsledding: Offering memorable dog sled rides morning and afternoon at the Lazy J Ranch in Wolcott, just 10 miles from Beaver Creek. Tours last approximately 1.5 hours and cover 6 miles. Pet the dogs, enjoy homemade pumpkin bread and hot cocoa and as always...free dog kisses. Transportation to and from Beaver Creek provided.

Sleigh Ride Dinners: Enjoy a warm drink by the fireplace inside the historic Nelson Cabin (ca. 1890), snuggle under cozy blankets for an unforgettable sleigh ride beneath starlit skies, and end the evening with a sumptuous Colorado buffet dinner. Transportation to and from Beaver Creek is included. Reservations required.