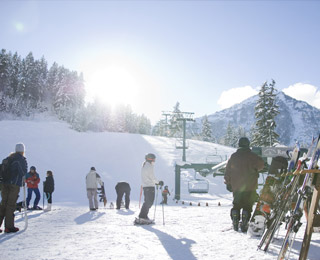 Sundance
You may have heard of Utah's Sundance Resort because of its well-known film festival and its founder, Robert Redford. But don't let the stars distract you from the skiing.

With Mount Timpanogos creating the perfect background, Sundance offers the best of nature for ski lovers. You can choose narrow chutes, steep runs, or groomed cruisers that will satisfy everyone in your group from beginner to expert. While the mountain offers a variety of terrain, it maintains a manageable size for keeping track of your group.

If you don't want to miss a single minute on the slopes, Sundance offers night-skiing on many of its trails, as well as its terrain park.

In addition to its downhill offerings, Sundance provides cross-country skiers 15km of groomed trails to explore. And if you want to grab a pair of snow shoes, you'll be hard pressed to run out of woods to explore on the 10km of forested trails.

Sundance is a pioneer in the popular trend of earth-to-table dining. For meals composed of fresh, locally sourced ingredients, go no further than The Tree Room or The Foundry Grill. After dinner, you can take in a little night life at the Owl Bar.

Sundance really does offer everything you could hope for in a Utah group ski trip, and Ski Daddy can help make sure you don't miss any of it.