ACTIVITIES
Terrain Parks:
Vail has 3 terrain parks varying from pro-style features in the Golden Peak Park to beginner and kid's sized jumps, boxes, and rails in the Simba and Pride parks under the Eagle Bahn Gondola. There are great things in the works for the 2013 season, so stay tuned...

Golden Peak Terrain Park
Golden Peak is home to our largest terrain park located under the Riva Bahn chairlift. It is only a five minute lap on the high speed quad which delivers you right to the top of the park. We have two half pipes, a 13' to get you warmed up and an 18' once you have mastered the mini pipe. The Super Pipe is cut and groomed when conditions warrant and every Friday through Sunday. A total of 9 jumps are available ranging in sizes from 10' to 50'. Our smallest features can be found on the skiers left side of the park. We have over 30 jibs, boxes and rails to test your skills. This season we have added 10 new features. Checkout the recycled snowmaking pipes and pyramid shooter box. In the Lower Golden Peak Park you will find some of our signature rails and boxes as well as our largest jump. This is an advanced rider and skier area only.
Bwana Terrain Park
On the western side of the mountain, Bwana Park can be accessed via the Gondola or Chair 8. We have 25 features focused on progression with a beginner line along the skier's right side from top to bottom. Check out the "Shred Bench" with a few bonks and stall features. New this season, we have two medium jumps at the bottom of the park. If you're not ready for those, you can still catch some air on the small line right next to them.
Pride Terrain Park
Pride Park is located under Chair 26 just below Eagle's Nest. It is home to some fun snow features and one of our new milled log slides. Lap the gondola all day connecting Pride with Bwana for beginner to intermediate features.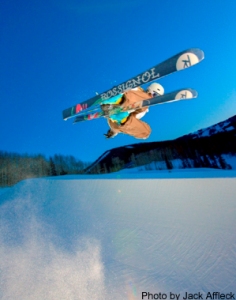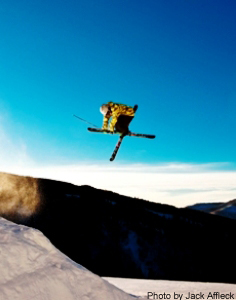 Adventure Ridge - Vail Tubing: Play in the afternoon and well into the night at Adventure Ridge with ski bikes, kids snowmobile track, a slippery slope of rip-roaring tubing lanes and more. A snow park the size of a football stadium on top of the mountain and family food favorite Bistro Fourteen. The gondola runs from breakfast till night. Drink hot chocolate and watch the sun set over the bowls. Adventure Ridge, a family experience Like Nothing on Earth...

Tubing
Grab a tube, hop a lift, get a rush. Our multi-lane tubing hill whisks you downhill while the easy-access surface lift takes you back up quickly. Multi-lane hill with music, long runs, and a new, covered, dedicated lift. One-hour sessions on the hour and half hour. First come, first served, subject to availability. Tubers must be 42 inches or taller. Children 5 and under must be accompanied by an adult.
Ski Biking
Part bike. Part skis. All adventure. Our nighttime guided tours are unique to Vail. Offered to intermediate and advanced skiers and snowboarders 10 and up. Allow up to 1.5 hours for ride time. Schedule 2 hours total time. Although helmets are not required, they are highly recommended for ski biking at Adventure Ridge. Please bring your own helmet if you wish to wear one because they are not provided. Ski boots are provided for ski biking. If you have your own ski or snowboard boots, we encourage you to bring them for comfort and convenience.
Kid's Snowmobile
Kids cruise around Blizzard Speedway in specially crafted mini-snowmobiles. Designed for children 6-12 years of age and less than 110 pounds, the snowmobiles travel at a child's preferred pace.
Trampoline
This bouncing bungee harnessed trampoline sends you sky high so you can try out your acrobatic feats fearlessly. Dual trampolines make it fun to bounce with a friend. Must be between 30-180 pounds. First come, first serve. Trampoline session lasts approximately 3 minutes.
Snowshoeing
From animal tracks to the mountain pine bark beetle, the Nature Discovery Center is your source for all things wild - including guided snowshoe tours with an expert naturalist. See and learn about the wild side of Vail in the most pristine of settings. No reservations required. Daily AM snowshoe tours are offered through the Vail Resorts Nordic School. Located in an all-seasons yurt atop Vail Mountain, the Nature Discovery Center is a community-based partnership between Vail Resorts, the US Forest Service and Gore Range Natural Science School (GRNSS). GRNSS naturalists provide daily nature hikes that explore Vail's high alpine habitat and assist walk-in visitors with natural science learning. Winner of the 2004 Environmental Business Awardfrom the Colorado Alliance for Environmental Education.