ON-MOUNTAIN DINING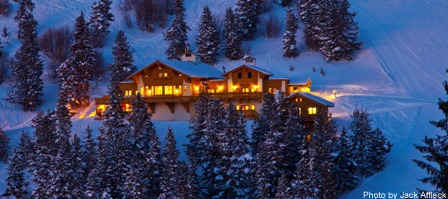 Bistro Fourteen: Take it to the top for a new and improved dining experience at the Bistro Fourteen. Located at the top of the Eagle Bahn Gondola at Eagle's Nest, this fresh and inspiring restaurant provides fine dining with a casual, family-friendly twist.
Cuisine Type: American. Price: $$$.
Game Creek Restaurant: Renowned for the fabulous view, Game Creek features a fusion of an American-French style of cooking with regional and seasonal ingredients. The result is a spectacular menu of contemporary dishes you won't soon forget, complemented by an extensive wine list and superior service.
Cuisine Type: American, Steaks. Price: $$$$.
The 10th: The 10th is Vail's newest sit down dining experience. The 10th is a ski-in and ski-out fine dining restaurant, overlooking the majestic Gore Range. The cuisine is world-class, with a focus on Modern Alpine classics. Enjoy an upscale meal with exceptional table service, or a quick bite to eat from Express lunch options offered at the bar. The 10th is located at the base of Look Ma run at Mid-Vail.
Cuisine Type: American, Deli-Cafe-Bakery. Price: $$$.
Buffalo's Restaurant: Located above Patrol Headquarters at the top of chairs 11 (Northwoods), 4 (Mid-Vail Express), and 5 (High Noon) this is an excellent spot to stop for a quick bite before jumping into the Back Bowls.
Cuisine Type: American. Price: $$.
Gondoly's Pizza: Gondoly's 'pizza by the slice' sells a variety of thin crust pizzas by the slice, as well as beverages. You can take a slice onto the deck, or grab it on your way out to the slopes!
Cuisine Type: Pizza. Price: $.
Mid-Vail Restaurants: Mid Vail has grown through various remodels and additions, after starting out as the first mountain restaurant on Vail. Today it consists of 4 restaurants in one central location at the base of Chairs 3 (the Wildwood lift) and 4 (Mid Vail Express) and top of the Vista Bahn chair lift. Mid-Vail is open daily from 10am -3pm.
Cuisine Type: American, Pizza. Price: $$.
The Grand Press: Take a break from the slopes with a hot drink next to the fire. Offering Starbucks coffee, cappuccino, espresso, hot chocolate and more. A selection of candy bars and baked goods are also available. The Gran Press is located behind the main Eagle's Nest building on the South side of the complex in the Adventure Ridge building.
Cuisine Type: Deli-Cafe-Bakery. Price: $.
Two Elk Restaurant and Belle's Camp: Vail Mountain's flagship restaurant, Two Elk, is the gateway to China Bowl and Blue Sky Basin. Located near the top of Chairs 14, 17, 21, and 36, Two Elk sits at an elevation of 11,220 feet.
Cuisine Type: American. Price: $$.
Wildwood Restaurant and Pavilion: How about authentic BBQ two miles high? Located at 11,000 feet at the top of Chairs 3 and 7, you'll find the great tastes and foods of Wildwood.
Cuisine Type: American. Price: $$.