Sunlight Mountain Terrain Park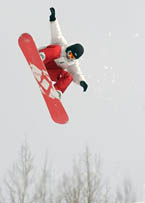 Sunlight has blown out our terrain parks! With new terrain park sponsorship, Sunlight Mountain has acquired and built new jumps, fun boxes, rails, even a volcano and a quarterpipe! New features will be unveiled at each round of the annual Rail Jam Series.

Skiers and boarders will love our new jib park features laid out in session-friendly formats. Due to the addition of so many new features, our three parks will now be designated expert, intermediate, and beginner. And new for the first time this year, Sunlight Mountain now allows inverted aerials! So, don't bite off more than you can chew and remember your Terrain Park code...

Terrain Park Code
1. Look before you leap. Scope around the jumps first, not over them. Know your landings are clear. Clear yourself out of the landing area.
2. Easy style it. Start small and work your way up. (Inverted aerials not recommended).
3. Respect gets respect. From the lift line through the park.
 

Conrad Daley in Sunlight's
Big Air Comp 2006.


Local teen competing in the 2006 Rail Jam Series at Sunlight.