You'll get exactly the bump experience you are looking for on our 70 trails at Mary Jane. Mary Jane is made up of three mountains each with their own set of idiosyncrasies; Mary Jane, Parsenn Bowl, & Vasquez Cirque. We average the most annual snowfall of any major resort in Colorado - over 30 feet of the white stuff every year.
MARY JANE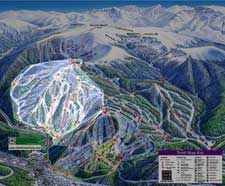 No Pain, No Jane.T That's our motto. And after you feel the impact of The Jane's relentless long mogul runs, it'll be yours, too. Cruising at an altitude of 11,000 feet, here you may encounter a bit of turbulence. People come to Mary Jane when they want to feel a bit guilty for enjoying themselves too much. This beautiful, bumpy mountain was voted #1 in North America for bump skiing. So if you're needing a push, wanting a challenge, or maybe just feeling you've been naughty, try a run down Mary Jane.
PARSENN BOWL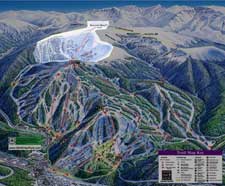 You start pretty much at the top of the world, and it only gets better from there. There isn't much that's not impressive at 12, 060 feet. Parsenn Bowl is the kind of skiing you dream of, filled with vast empty spaces, beautiful gladed tree runs, unreal powder and the gorgeous opportunity for fresh tracks.
VASQUEZ CIRQUE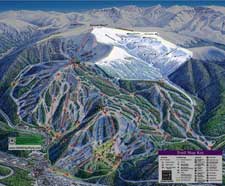 When two's a crowd, Vasquez Cirque is the cure. Remote. Out-of-the-way. Off the beaten path. This backcountry adventure area is for experts only. Steep doesn't really describe it. When you're talking about 1,500 foot vertical drop, calling Vasquez Cirque steep is like calling the sun lukewarm. In fact, even the pros probably get the jeebies just before dropping in off a cornice at Vasquez Cirque. And that's just the beginning. Over 687 acres of cornices, lips, and glades make the Cirque one incredible, intense, intimidating experience for anybody. But for just the right skier, it could be adrenaline heaven. In the Cirque, you'll either become a really good skier. or a really bad example.