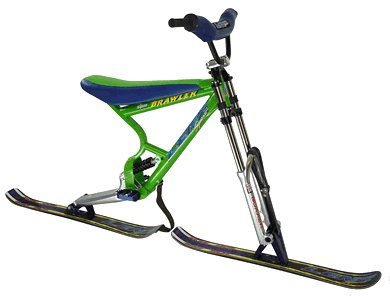 Day Ski Bike Tours (Ages 14+): Meet your Ski Bike Guide at 9:00am at Winter Park Resort for outfitting, then head to Sorensen Park for orientation on the use of the Type I Brentner "sit down style" Ski Bike, including chairlift loading and safety considerations. We'll board the Gemini Express chairlift to the top of Discovery Park, and then the tour begins! Your guide leads you on a variety of ski bike trails including, but not limited to, Discovery Park, Village Way and Parkway giving you information about the ecology, animal tracks and history of the area. The tour group makes laps until around 12pm. Routes and chairlifts depend on group ability. Tours are offered at 9:00 am and 1:00pm, Capacity: 10 people per tour. All tour guests with reservations should go directly to the Winter Park Tour Center located in Balcony House Guest Services at the base of Winter Park Resort at the scheduled departure time. Minimum of 2 paying guests required for every tour.


Night Bikes (Ages 14+): Friday and Saturday nights starting mid-December (snow-permitting), when the gondola operates for evening dinners at the Lodge at Sunspot, we'll break out the Night Ski-Bikes and head lamps and head out on the hill for an exhilarating three hours of night time snow fun. It's the perfect activity to see the mountain in a whole different light - pun intended! Tours include guide, ski bike rental and orientation, gondola lift access, helmet, headlight, glasses and visibility vest. Night ski bikes are Type I only.

Information may change without notice. Please see reosrt for specific details.