At Grand Adventures, you have the unique opportunity to choose from a wide variety of snowmobile activities (guided or unguided). We do everything possible to assure a safe and enjoyable experience. However, because of the inherent risk involved with this type of outdoor activity, your participation is "at your own risk." We strongly recommend guided snowmobile activities for the beginner to intermediate riders and those with teenage drivers. Our staff of professional guides know how to customize each tour based upon the conditions and the group to "better" your snowmobiling experience. All our guides are fully trained in first aid, CPR and backcountry snowmobiling expertise. They are also very knowledgeable about the area's history and local wildlife. For the advanced snowmobile rider, our staff of factory trained technicians have the latest in mountain performance and deluxe touring sleds ready for you. Machine orientation, safety tips and maps will be covered with each group before departure.
- Only Tour in County to 12,000ft on the Continental Divide with views of entire Winter Park Ski area and FraserValley
- Offer both Guided Tours and Unguided Rentals in 3 convenient locations at the Winter Park Ski Area, across from the Winter Park Ski Area and in Downtown Winter Park as well as a 4th location in the Snowmobile Capital of Grand Lake
- Leave straight from our locations, no long van rides to the trail
- Highest groomed snowmobile trails, Largest play areas & Powder Meadows. Lots of Fun!
- You will drive a deluxe Polaris snowmobile which provides both luxury and performance. Or a 4-stroke Yamaha Phazer and Venture Lite better for the environment using less fuel, has no fumes and is easier to ride.
- NEW! Mini Snowmobiles for Kids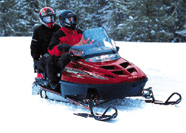 For reservations, call 970-726-9247